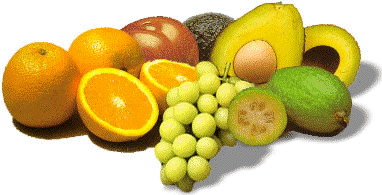 Because of it's climate and soil conditions, New Zealand offers conditions for growing just about any type of fruit or vegetable from around the world. The meat and poultry industries offer many different cuts of meat for the consumer. Here I will attempt to tickle your taste buds and show what is available for you to eat and drink while in New Zealand.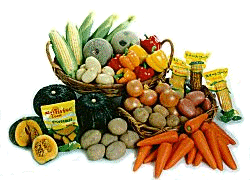 As you can see from the pics above fruit and vegetables are abundant in New Zealand and are a staple part of the average New Zealand diet. Fruit and vegetable shops are plentiful in the towns and cities and the supermarkets also carry a wide range of them. The pics show only a few of what is available and New Zealand fruit and vegetables are exported worldwide.
The average New Zealand diet consists of a lot of fruit and vegetables and the usual tea (supper) will consist of meat and at least 3 different vegetables in the winter. Summer is a time for BBQ's and salads are always on the menu. There are two, shall we say, snack times, in the averages new Zealander's day, morning and afternoon tea. These usually consist of a cup of tea or coffee or some other drink and something to eat.

Meat and Poultry
The choices and cuts of meat and poultry are plentiful. Fresh meat can be purchased in supermarkets prepacked or in butcher shops which are plentiful throughout New Zealand. It is offered plain, crumbed, marinated or if purchasing meat through a butcher shop, the butcher will be willing to prepare the meat how you would like it.
It is common in New Zealand for a household to buy its meat as a whole or side or beef, pork, lamb, hogget or mutton through a butcher who cuts the meat into the different cuts and packs it into the meal sizes that are requested, eg for a family of 4.





Lamb is popular in New Zealand and plentiful. Also available is hogget (a year old sheep) and mutton which is a sheep over a year old.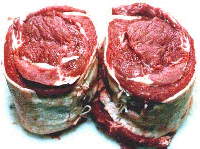 Rolled roast beef is one way beef is offered as a roast. Another form of roast beef is topside, numerous types of steak is available and a popular diet staple in New Zealand is mince (hamburger meat as it is called in America).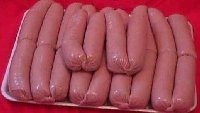 These are sausages. They come in numerous flavours, eg beef, pork, lamb and mint, garlic, italian, mexican to name but a few. Beef or pork flavoured sausages can also be bought precooked for the popular BBQ. It is not unusual when walking around New Zealand to see some group fundraising outside a supermarket or shopping centre offering BBQ'd sausages, wrapped in a slice of buttered bread with tomato sauce (ketchup).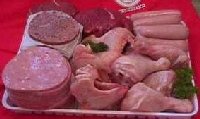 Meatpacks are usually offered by butcher shops but, they can be found in some supermarkets. This pack offers hamburger patties, ham steaks, sausages, chicken pieces and porterhouse steak and it is what is often offered as a BBQ pack.

Seafood
As I have explained previously seafood is abundant in New Zealand. Fish can be bought whole, filleted, smoked, battered or crumbed and precooked. The most plentiful shellfish that can be purchased in supermarkets and fresh fish shops are mussels, either fresh in the shell or pickled in vinegar. Oysters and scallops are available, but a bit more expensive than mussels. The other shellfish noted on the Water Life page are usually "harvested" by the family themselves on the beaches and in estauries.

Dairy Foods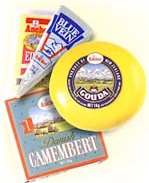 Because dairy farming is prevalent in New Zealand the range of dairy foods is extensive. Cheese is a popular food and there are many varieties of cheese available.

Breakfast Foods
Breakfast in New Zealand usually consists of cereals of which includes meusli (a combination of oats, dried fruit, nuts, sunflower seeds) which is either toasted in honey or plain), porridge (oatmeal), toast and a cup of hot tea. A cooked breakfast is usually had at the weekends and this would or could be eggs (fried, scrambled or poached), baked beans or spaghetti (not the Italian style), bacon, fried luncheon (bologna) as examples. The average New Zealander is not into sweet things for breakfast such as pancakes or doughnuts.

Sweet Things
Cakes and biscuits (cookies) are eaten usually at the morning and afternoon teas or supper. Supper is a snack in the home around 9 pm at night or offering at a party or wedding around 10 - 10.30 pm. The supper at a function consists of savoury foods, finger foods, sandwiches, cakes, small pastry offerings. What is considered for puddings or desserts are the pavlova (a meringue type dessert), stewed fruit and custard, steamed puddings, fruit pies served with cream and/or ice cream, preserved and fresh fruit, jelly (jello) as some examples.

Lollies (candy) are plentiful and New Zealand has its own lollies peculiar to itself, eg Hokey Pokey. If you have a sweet tooth, it will certainly not go without in New Zealand. The ice cream is creamy and comes in numerous flavours.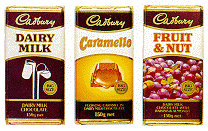 Cadbury chocolate is a favourite in New Zealand. It is available in king, big, and small size blocks and the flavours are too numerous to even attempt to list on here. Cadbury also offers boxed chocolates which certainly tickle the sweet tooth. Cadbury chocolate is also used on many of the chocolate covered biscuits that are available.

Liquid Refreshments
The New Zealand staple is a hot cup of tea. Iced tea is not popular as a cold drink. Coffee is also a well consumed hot drink. Other hot drinks are drinking chocolate, Milo (a chocolate flavoured drink similar to Ovaltine and is also very nice cold as a milkshake).
Cordials (similar to Kool-Aid) are found in liquid or powder form in a wide range of flavours and is usually found in most homes. Fruit juices are plentiful also in a wide range of flavours. Fizzy drinks (soda pop) is also popular in New Zealand in a range of flavours that are too numerous to name.

Alcoholic Beverages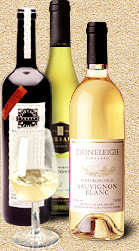 Above are three examples or Corban wines. The Corban Winery is one of the oldest wineries in New Zealand and that and other wineries are making their name in the world of wine. Kiwifruit wines and liquers are now popular and plentiful in New Zealand.
Beer and lager is plentiful and the two main breweries in New Zealand are the DB Breweries and Lion Nathan. There are numerous smaller breweries throughout New Zealand and their beer is easily obtainable.
Spirits are also plentiful and all alcohol can be purchased though liquor stores, wholesale stores in a hotel and wine can be purchased in supermarkets.




&nbsp

&nbsp

&nbsp
&nbsp


&nbsp

&nbsp

&nbsp

&nbsp


&nbsp

&nbsp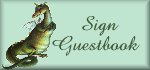 &nbsp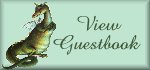 With any questions or comments
| | | |
| --- | --- | --- |
| | site designed and maintained by | |